Travelling across Canada on 'The Canadian' and 'The Ocean' combines onboard comfort and passing scenery into a unique experience.
"Quite simply, no other travel experience can compare with a journey across the immense open spaces of Canada by rail. From the Pacific to the Atlantic, travelling over the vast ruggedness of the Rockies or the rolling miles of the plains, the only way to really make the most of the journey is aboard one of VIA Rail's iconic and distinguished trains."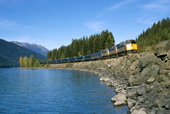 Linking Toronto to Vancouver, The Canadian is one of the world's most legendary and popular long haul train journeys, taking four nights to travel between Canada's largest city and the Pacific Coast through some of the most exciting and spectacular landscapes in the world. Operated by VIA Rail, this was the last Trans-Continental train to be built for the famed Canadian Pacific Railway and, today, with its comfortable 1950s refurbished art deco style cars, it offers a unique and magnificent experience.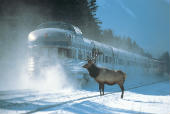 The award-winning service on board is renowned for being attentive and courteous, with superb food, served in the dining car, that can be enjoyed watching the incomparable views of the immense Canadian landscape. Perhaps, as you enjoy a superbly presented piece of salmon or a juicy steak, you may be fortunate enough to glimpse a hungry-looking grizzly bear.
The Canadian runs throughout the year, so all the seasons' variations can be enjoyed and the Dome panoramic viewing car gives you an outlook on the ever-changing scenery that no other method of travel can – especially as you journey through the finest of it, including the Rockies, in daylight. At night, you can drift off in your comfortable on-board bedroom and awake to a delicious breakfast.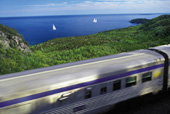 The Canadian's sister train, The Ocean operates between Montreal and Halifax, making the overnight journey through Quebec before crossing the provinces of New Brunswick and Nova Scotia. Depart from Ste Fou at 10 p.m. and travel through the fertile farmlands that carpet the southern shores of the St. Lawrence River to arrive at Matapedia Valley at 6 a.m. While you sleep, hundreds of kilometres are covered and you awake to the misty, early-morning glory of Chaleur Bay. As you would expect on a train operated by VIA Rail, the service and the comfort are on a par with those aboard The Canadian.
If you are travelling across Canada, there is no better way to do so than by VIA Rail. It's an experience you will never forget.